Posted: August 9, 2016
Filed under: events, meetings, presentations, training
Comments Off

on RUX August – Can I See Your Portfolio?
When: Wednesday, August 31, 2016 from 5:30 PM to 7:30 PM (EDT) – Add to Calendar
Where: The Depot at VCU – 814 W Broad St, Richmond, VA 23220 – View Map
When thinking about hiring you for a web design or development job, Most managers don't care where you went to school, what your GPA was, or even what "skills" you say you have. They don't even really care that much about where you have been working the past few years. What they care about is seeing your portfolio. Whether it's a resume sent by HR, an email from a friend, or a business card handed to them at a conference, they immediately look for that URL which will show your body of work.
Your portfolio is the key to any user experience job. If you don't have one, then you need not bother to apply. You can have all of the fancy schooling available; you can know the entire Adobe Creative Cloud product line like your own family; you may have have even worked at Ogilvy while moonlighting at Frog, but if you do not show your design thinking process, you might as well go into chartered accountancy.
Jason has been hiring UX professionals for over twenty years, and will share some of the insights he has gained about what works (and does not work) when presenting your portfolio, whether it's to a prospective employer, client, or other designers.
What attendees will learn
Who is the audience for your portfolio
What every portfolio has to have
How to present your portfolio effectively
Agenda
5:30-6:00 – Networking
6:00-6:45 – Featured Presentation
6:45-7:00 – Q&A
7:00-7:30 – Discussion / Networking
About Our Speaker, Jason Cranford Teague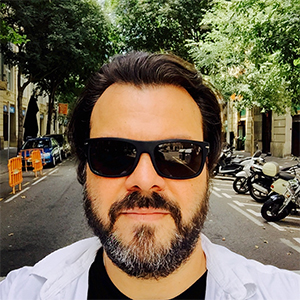 Jason designed the first web based magazine, Computer Mediated Communications, in 1994 and has been at the forefront of digital innovation ever since. He wrote the first book for designers on Cascading Style Sheets in 1996. He was the lead designer on WebMD when it launched in 1998. He built the first online interactive comic book reader in 2006. He wrote the first book on modern web typography in 2009.
Jason is the co-founder and lead creative at The CranfordTeague Group, which specializes in digital communication strategies. He is also working on Invisible Jets, a start-up company that wants to revolutionize how we trust each other online.
Jason is finishing work on a new book, The NEW Web Typography, with Stephen Boss (Spring '16) and has written several other books and dozens of articles for print and online publications over the last 20 years. He's lived in London (off and on), Charlotte, Atlanta, Durham, and DC (not necessarily in that order) with his 3 cats, 2 kids, but just the one wife.
Twitter: @JasonCT
Company: @CranfordTeague
Blog: www.medium.com/jasonspeaking-report
YouTube: https://www.youtube.com/playlist?list=PLpj0RrS4y8FLwY8ntwswn9KqzoE7rk7kz
---